Railways in Luxemburg
Subpages on this website:
Railway museums
In Luxemburg there are several organisations for railway museums or railway related museums.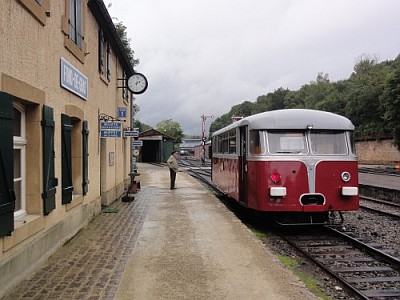 Pétange - Fond-de-Gras - Rodange
In the hills between Rodange en Pétange there was for years a railway into the iron ore loading stations. This was a line, only for goods transport. It ran from Pétange via Fond-de-Gras to the French border.
Today the iron ore loading has gone. The railway has been out of service for a while, and for some years, today on some days (sundays in the summer) a museum train can be found riding from Pétange to Fond-de-Gras and to Bois-de-Rodange (in the hills above the village of Rodange), and (since the year 2001) also from Pétange to Fond-de Gras.
More about this train can be read on the website of the train 1900.
[ top ]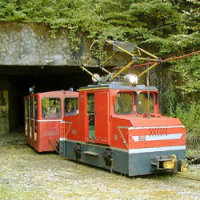 Fond-de-Gras - Lasauvage (mineursbahn)
In an old mine between Fond-de-Gras and Lasauvage, you can find a mine train of the AMTF (Association des Musée et Tourisme Ferroviaires). It is riding from Fond-de-Gras (at the site of the museum line Train 1900), for about a kilometer into the hills, and then going over a length of about 4 kilometer in a tunnel to France. In France the line runs in open air for some kilometer to Saulnes. At the museum line there can be found several types of rolling stock of the old mine trains (e.g. e-locs, diesellocs, lorries).
More info can be found on the website of the Mineursbahn.
[ top ]
Luxemburg Hollerich (trammuseum Luxemburg)
In the quarter Hollerich of Luxemburg city, not far from the railway station one can find the museum of the tram and bus of the city of Luxemburg.
On the web you can find a website of myself about the tram in the city of Luxemburg, with a special webpage about the tram-museum.
Or you can visit the website of the tram musem Luxemburg.
[ top ]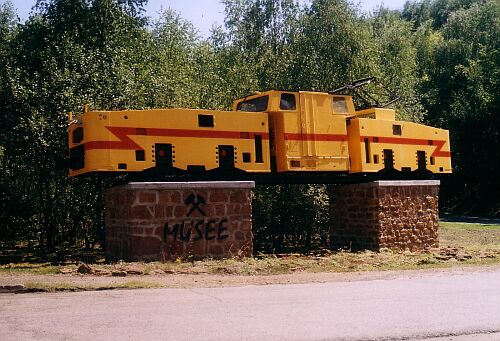 Mine museum in Rumelange
In Rumelange, near the south border of the country, one can visit the mine museum. In this museum in several ways the history of the mining in Luxemburg is explained. Outside the the museum you can make a ride with an old mine-train.
For more information, visit the website of the mine museum
At the eastern entrance of the museum near the cement factory of Langengrund, one can see two mining locs. On the left you can see a picture of loc 70 standing at the entrance.
[ top ]