Trams in Belgium (NMVB/SNCV/city trams)
Rolling stock : Goods wagons
Rolling stock : Goods wagons
The NMVB not only transported people. Also the goods transport was important. On the countryside sometime goods transport was even more important than passenger transport. The goods transport even lasted longer than passengers transport, when the latter were transported by busses.
Especially in both of the world wars the goods transport of the NMVB has meant a lot for the country. The main railways were destroied heavily, where the NMVB, special in the second world war had only little damage. In the war time the NMVB transported many goods, and has meant a lot in making food available for the people.
In 1970 the last goods tram could be seen in Belgium.
Because of this important transport the NMVB ordered a large number of goods wagons. The total number of coaches exceeded the 10.000, of different types. Too much to describe on this pages. Below you can se some examples of goods wagons as being used by the NMVB:
Closed wagons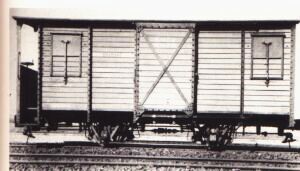 An example of a closed goods wagon. There were different type of closed wagons, depending of the type of product that had to be transportd. Wagons for small articles, for vegetables, for animals, and many other types of transport were available. The standard wagon, as can be seen on this picture, could carry 10 tons.
Open wagons
An example of an open goods wagon. These wagons could be used for transport of products which needed not to be inside a coach. Pees, sand, wood and other products could be transported. A standard coach as on this picture could transport 10 tons.
Special wagons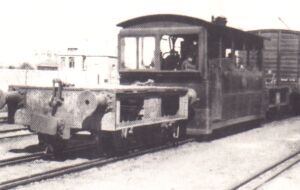 A special type of goods wagon, the coupling wagon. It was used on 4-track railways as in Merksem and in Mol, where goods wagons of the main railway were taken over the (narrow gauge) tramrails to an industrial area or sandmining area. The normal gauge goods wagons rode over the outer rails (1435 mm gauge), the locomotive rode over the inner rails (1000 mm or 1067 mm gauge). The 4 rails can be seen on the foto. The special coupling wagon had buffers for main railway wagons, and buffers for the coupling with the tram locomotive.