Tram Belgium (NMVB/SNCV)
Rolling stock : Trailers at the electric tram
At the introduction of the electric tram, some coaches of the stam tram were used. But soon it found out, that it was better to order specific coaches for the electric motor trams. Electric brakes and other modern things could be better used in this way.
In the past there were also a lot of electric motor coaches who were rebuilt to coach. When the motoric capacity was too small, or when the motor was outdated, it often was good possible to use the body of the coach itself as a coach behind the motor-tram. There have been seveal forms of rebuilding, where a new body was build on existing wheels of an olderly tramcoach.
Below you can see some examples of coaches for the electric tram.
A example of a coach, rebuilt from a two axledd coach of the steam tram. It was built in 1908. In 1923 on the old boogie a new body was built as coach for the electric tram.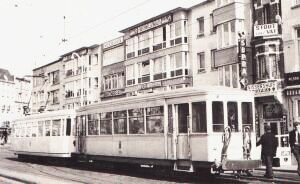 On the same moment as rebuilding of electric motor coaches to the type Standard, there were also rebuilt a lot of coaches with a body lookalike to the motor coach.
Here you can see an example of a tram type standard with belonging four axled coach on boogies.
Another cach of the type standard. It was fitted on boogies.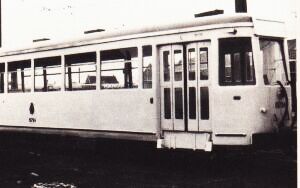 A coach of the type S, used until the years '80 on lines at the coast and in Hainault.
In the depot of Jumet (near Charleroi) some type S coaches were rebuilt to make them usable on the pre-metro network around Charleroi. There was a step fitted, to be used to stand still on the high platforms of the pre-metro network (step remaines as on the foto), or to stand still on street level (the step will be turned 90 degrees).