Trams in Belgium (NMVB/SNCV/city trams)
Rolling stock : Trailers at the steam tram
Already in 1885, at the time of the first steam tram, also trailers were bought. The NMVB made standard measures for them. A two-axle coach was long 5,7 meter, broad 2,4 meter and had an axle distance of 1,8 meter.
There were coaches first class (with 16 seats) and coaches second class (with 24 seats). Short after the begin also mixed coaches with first and second class were build. Soon, in 1891, it came through, that the balconies of the coaches were too small; it lasted too long in time to go in or out the coach. Because of this reason the NMVB gave new dimensions for the standard coach, now 6,8 meter length, with a axle distance of 2,4 meter.
Apart from these standard coaches there were also build several coaches of a different type, mostly as two-axle coach, but some times also as four-axle coach.
For the line along the see coast and for some other touristical lines, there were also built open coaches. As there is no lost place for walking space in the middle of the coach and for the balconies, there could be seated 26 persons in these open coaches.
Below there are some examples of coaches for the steam tramway.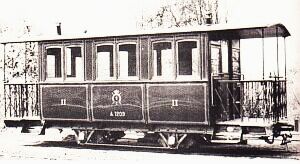 One of the first coaches, in this case a mixed coach first and second class. The balconies are somewhat larger than at the very first coach.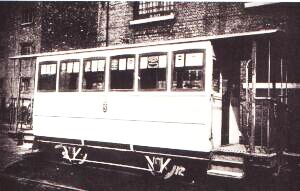 One of the coaches as were built later on in large numbers. Here with open balconies, but anyway with somewhat more comfort than theat of the first coaches.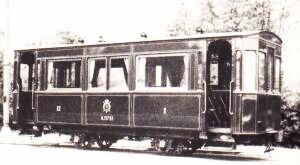 A two-axle coach, one of the type that was built from 1895 until 1923 in large quantities. The balconies are closed now, the comfort was also a little better than that of the above mentioned coaces.
An open coach, with two axles. This type was buid from 1906 on for the coast line, for the line to Spa and for the line to the grottes of Han. When good weather it was a pleasure to ride in these coaches on the touristical lines.