History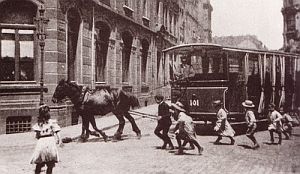 Already since the year 1875 in the city of Luxembourg there were tram lines. At first a horse tram; later it was an electric tram. In the years '50 of the last century people thought of the tram as old fashioned. You could go better with the car, that was much more modern. And so in 1964 the last tram in the city was sent to the museum.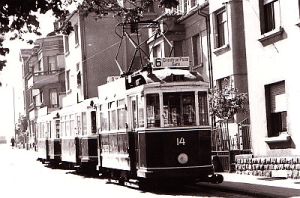 But it was soon discovered that cars and buses was not the best choice. Traffic jams, car and bus traffic and associated air pollution were becoming more and more a problem. Hence people began thinking of a new tram line in the city. But this time a modern tram line.
Many plans were made. Many plans were on the drawing board and there they remained. There were above all objections against the ugly overhead wires, especially in the Centre of the city.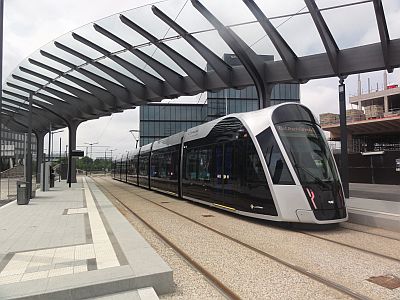 Around the year 2010 the plan were so far that the construction could be started. For the problem of the ugly overhead wires there was a solution. Modern trams can be equipped with a battery, which is charged under the catenary. On the plateau of the Kirchberg the tram would drive under such a catenary. And in the city center the tram then could use this built-in battery.

The first part of the line was opened in december 2017. It was the route on the Kirchberg plateau from the Pont Adolphe (the big red bridge over the Valley of the Alzette) to the easternmost point at the Luxexpo, where also the tram shed would come.

On july 27 in 2018 at the side of the city center, the line was further extended across the Pont Adolphe on to the Limpertsberg at the stop of Etoile (3 extra stops). And on 13 december 2020 the line was extended to the railway station. In 2017 it was decided that the line will be further extended to Bonnevoie, Howald and Gaasperich. The plans tell us that that will be the case in 2022.