Tram in Luxemburg
Lijnverloop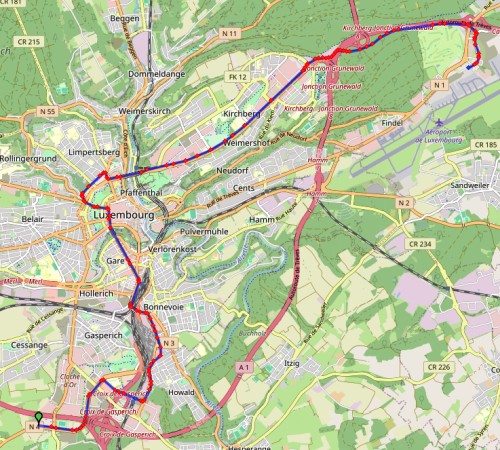 Op de plattegrond hierboven is het verloop van de tramlijn te zien. Rechts bovenaan is de remise gesitueerd. Reizigers kunnen instappen bij de eerste halte (Kirchberg, Luxexpo), die is gelegen aan de zuidwestkant van de grote rotonde.
De volgende haltes zijn aan de lijn te vinden:
Linienlauf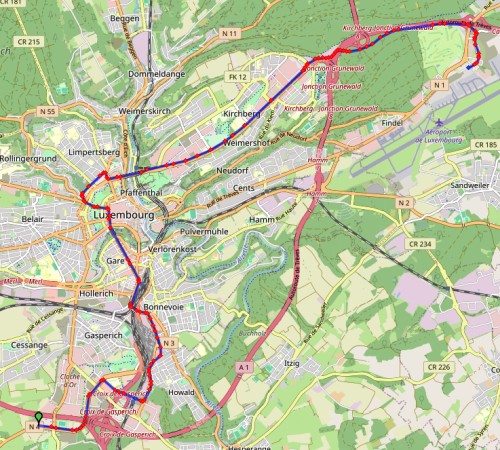 Auf die Karte oben ist den Verlauf der Straßenbahn-Linie zu sehen. Oben rechts ist die Remise. Reisende können beim erste Halte (Kirchberg, Luxexpo) einstiegen. Diese Halte befindet sich auf der südwestlichen Seite von den großen Rotonde
Die folgenden Haltestellen befinden sich auf der Linie:
Traject of the line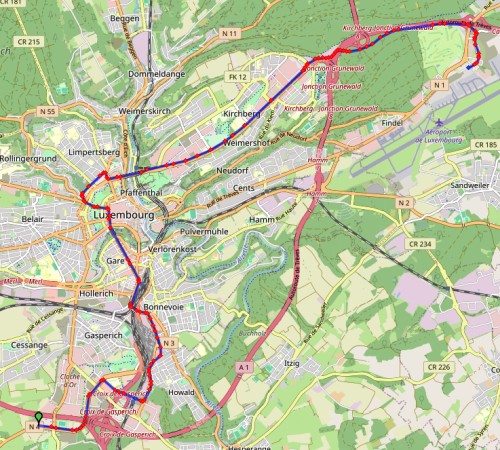 On the map above you can see the progress of the tram line. On top right there is the shed. Travelers can get in at the first stop (Kirchberg, Luxexpo), which is located on the southwest side of the large roundabout.
The following stops can be found on the line:
Tracée de la ligne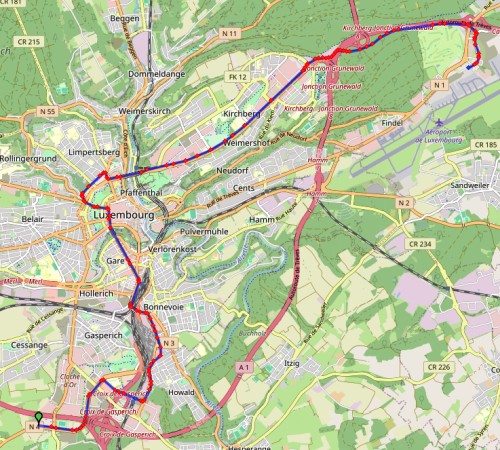 Sur la carte ci-dessus on peut voir le progrès de la ligne de tramway. En haut à droite il est la remise. Les voyageurs peuvent obtenir à la première halte (Kirchberg, Luxexpo), qui se trouve sur le côté sud-ouest du grand rond-point.
On peut trouver les arrêts suivants sur la ligne:
| Km | Opening | Naam |
| --- | --- | --- |
| -0,52 | 2017.12.10 | Kirchberg, Remise |
| 0,00 | 2017.12.10 | Kirchberg, Luxexpo |
| 0,53 | 2017.12.10 | Kirchberg, Alphonse Weicker |
| 1,00 | 2017.12.10 | Kirchberg, Nationalbibliothek |
| 1,52 | 2017.12.10 | Kirchberg, Universiteit |
| 2,12 | 2017.12.10 | Kirchberg, Coque |
| 2,60 | 2017.12.10 | Kirchberg, Europarlament |
| 3,08 | 2017.12.10 | Kirchberg, Philharmonie - Mudam |
| 3,51 | 2017.12.10 | Kirchberg, Rout Bréck - Pafendall |
| 4,35 | 2018.07.27 | Limpertsberg, Theater |
| 4,75 | 2018.07.27 | Limpertsberg, Faïencerie |
| 5,11 | 2018.07.27 | Stäreplatz / Etoile |
| 5,65 | - | Hamilius |
| 6,14 | - | Place des Martyrs |
| 6,64 | - | Place de Paris |
| 7,09 | - | Gare Centrale |
| 8,09 | - | Hippodrome |
| 8,54 | - | Lycée Bonnevoie |
| 9,55 | - | Scillas |
| 10,06 | - | Howald |
| 10,70 | - | Lycée Vauban |
| 11,29 | - | Blan de Gasperich |
| 12,18 | - | Cloche-d'Or |